An Outsider's View of Our Industry Disruptions and Opportunities
By member request we are bring back Mike Marks to share the emerging disruptions in our industry and the opportunities available to the smaller and more nimble firms against the industry giants.  For those that don't know Mike or his firm, Indian River Consulting Group, they have specialized for over 30 years in market access strategies for industrial manufacturers and their distributors.  Mike is a Research Fellow for the National Association of Wholesaler-Distributors, is graduate adjunct faculty at Purdue's University of Innovation Distribution, and he has published six books on the industry and rendered several precedent setting arbitration decisions in manufacturer-distributor contract disputes.  His firm has worked with many of our distributor and manufacturer members.
Digital is creating significant disruption in the sign industry including emerging discussions with some manufacturers around Direct to Consumer (DTC) market access models.  There are also issues with early merging of disparate market channels that create increased competitive pressure.  A prime example is the rapidly growing direct-to-print segment of the traditional printing industry.  These are all just extra challenges along with the traditional rising costs, the competition for talent, margin compression, and rising customer expectations.  The sign retailer community also continues to be very entrepreneurial and often unsophisticated.  Some insiders have said it is amazing what one can get used to doing every day.
The upside in the chaos is that technology has reduced the advantage of business scale in many cases where innovation and speed become powerful weapons for the nimble competitor. Mike will share multiple examples of how smaller competitors have gained share over their larger competitors.  The focus of Mike's session is to make our members aware of competitive alternatives, ideally to be incorporated into their 2024 planning.  While the subject is large, there will be specific participant take aways on opportunities in supply chain challenges, workforce challenges, and the impact of AI on the industry. Participants will receive copies of all presentation materials and a list of research links that will support further investigation.
Those that know Mike have enjoyed his no-nonsense straight talk and enthusiasm for the future of our industry.  You don't want to miss this session.
SPEAKER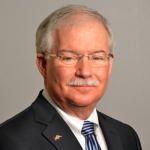 J. Michael Marks
Founding  Partner
Indian River Consulting Group
Mike Marks co-founded the Indian River Consulting Group in April 1987. He began his consulting practice after working in distribution management for more than 20 years. Over the years, his narrow focus in B2B channel-driven markets has created an astonishing number of deep executive relationships with virtually every business vertical in construction, industrial, OEM, agricultural, and healthcare.
Mike has led project teams that improve market access by aligning resources to growth opportunities serving manufacturers, dealers, and distributors. Clients have ranged from small privately owned firms to many of the industry's market share leaders. Ownership structures have included owner-operators, private equity, ESOPs, and publicly traded firms. Mike is proud of the team's work and the confidence clients have shown with additional project work.
He has written extensively and is frequently quoted on many industry issues. He has extensive board experience on both public and private distribution firms. His contributions to the field include serving multiple terms as a Research Fellow with the National Association of Wholesaler-Distributors, permanent faculty at Purdue University's University of Industrial Distribution, eight years as Graduate Adjunct Faculty in the Industrial Distribution Program at Texas A & M University, and rendering several precedent-setting expert opinions in contract disputes between manufacturers and distributors.
Prior to forming IRCG, Mike held the position of Executive Vice President at Lex Electronics, an $800 million vertically integrated electronics distributor in Stamford, CT. Mike's path to management in his early career was through increasing responsibilities in sales and sales management. He even completed a tour of duty as a manufacturer's representative. Additional details can be found on his LinkedIn profile at https://www.linkedin.com/in/mike-marks-46a7081/.
Mike is 74 years old and is in a multiple year buyout with his partners. He has two grown children and two granddaughters. Mike was the SCCA's Endurance series Champion in 2021 in an SRF3, a small prototype.