Photo Courtesy of DCL (Fabricator), Design by Gensler
Photo Courtesy of DCL (Fabricator), Design by CallisonRTKL
Photo Courtesy of Kieffer-Starlite
ISA INTERNATIONAL SIGN EXPO®
Registration for ISA International Sign Expo® 2023 will open in late fall. Join the sign, graphics and visual communications industry in Las Vegas, NV, April 12-14, to discover the latest products and trends, connect with like-minded professionals, and access business boosting education sessions.
Sign MFG Day
October 6
Finding qualified workers is one of the biggest challenges facing the sign, graphics and visual communications industry. On Sign MFG Day, companies in the sign, graphics and visual communications industry host facility tours to encourage students to explore exciting and diverse career opportunities within the industry.
ISA Community and Company Directory
There is nothing more powerful than collective wisdom to spark new ideas, solve problems and build networks. Members now have the opportunity to tap into all of those powerful tools through a new online community and company directory.
"It's not until you become involved as a member that you begin to realize the true value of ISA."
"I've yet to find another association so involved in the industry and so focused on helping new products be successful."
"With ISA's help we were able to convince both the city and the county that change was needed (no small task, yet one giant step for mankind)."
ISA membership offers many benefits and rewards, including joining a community of others like you who are driven to succeed and committed to building a vibrant economy.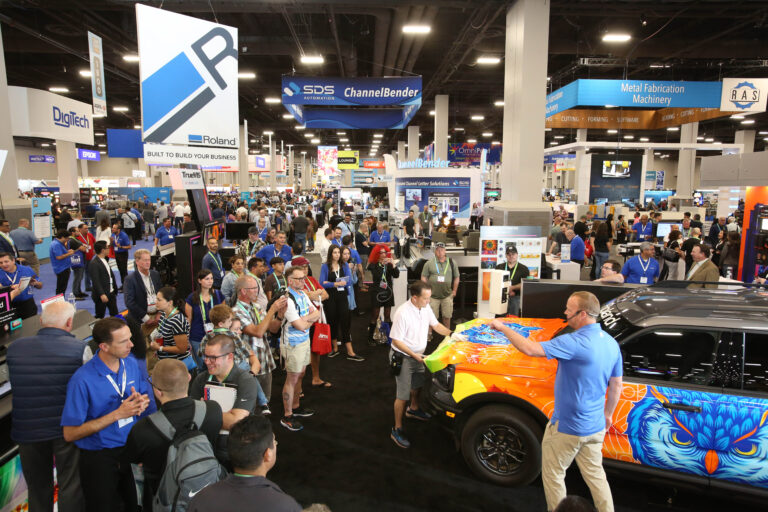 ISA Sign Expo
ISA International Sign Expo 2023 closed in Las Vegas with attendance exceeding expectations and surpassing 17,600. This was about 87 percent of 2019's totals, which was billed as a record year.
In addition to the attendance, exhibitors reported strong sales with many expressing that the quality of the attendees on the show floor was exceptional.
Read More
Sign Manufacturing Day 2023, set for October 6, will be a truly global event, with 106 companies participating around the world. In all, 91 companies in the United States and Canada, along with 15 countries in Europe, Asia, Africa and the Caribbean, will be joining the event.
INDUSTRY SIZE & ECONOMIC IMPACT
As part of a wide-ranging effort to raise awareness of the sign, graphics and visual communications industry in America, Ernst & Young released its "Size and Economic Impact of the Sign Industry" research in 2014. Results proved that the sign, graphics and visual communications industry is bigger and more influential than first perceived.
in direct and indirect output