Does your community have an effective sign ordinance that promotes commercial activity and enhances economic development?
The International Sign Association (ISA) works to improve the regulatory environment for on-premise signs, so that the businesses that use signs can speak–and sell–effectively in their community.
EXPERT SIGN CODE GUIDANCE
ISA's nationwide advocacy experts work with local government officials to help develop sign ordinances so that businesses and communities benefit. Contact David Hickey, ISA's vice president of advocacy, at [email protected] for complimentary assistance.
ECONOMIC INFORMATION AND POLICY RESEARCH
The latest economic information and policy research from ISA and the Sign Research Foundation offer a better understanding of the economic value of signs. Quick-read executive summaries are also available for many of the reports.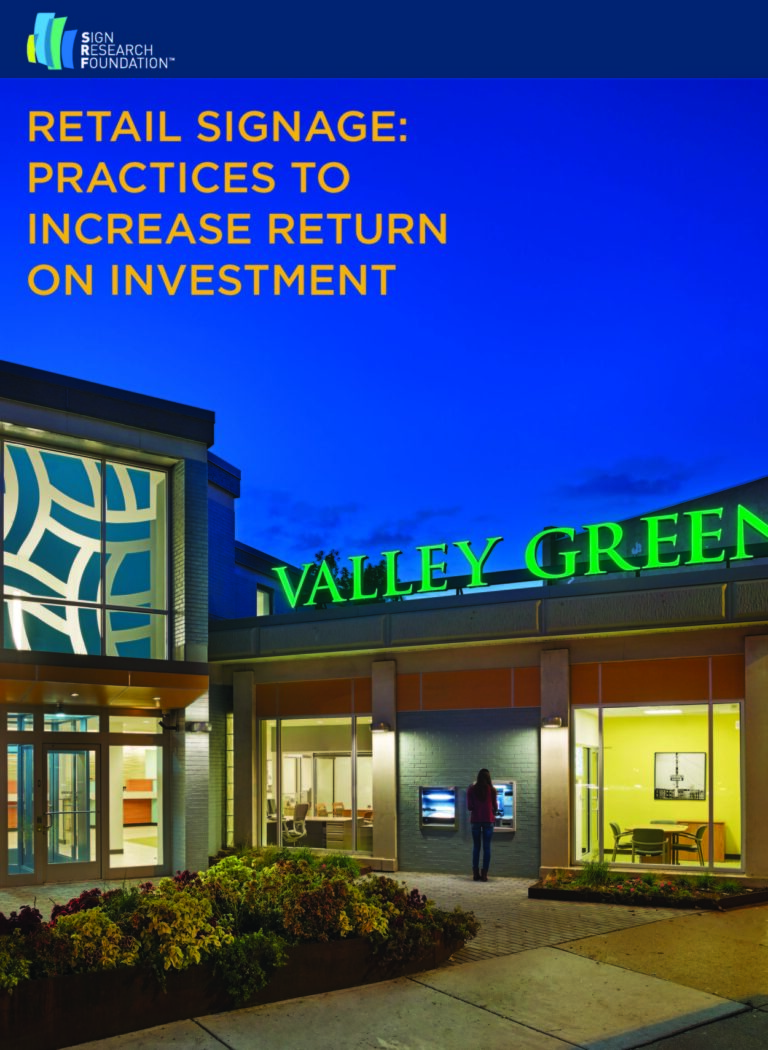 Retail Signage: Practices to Increase Return on Investment
This study explores the connection between high-level design practices (for sign legibility, viewing enjoyment, informational aspects, quality, appropriate scale and uniqueness) and return on sign investment.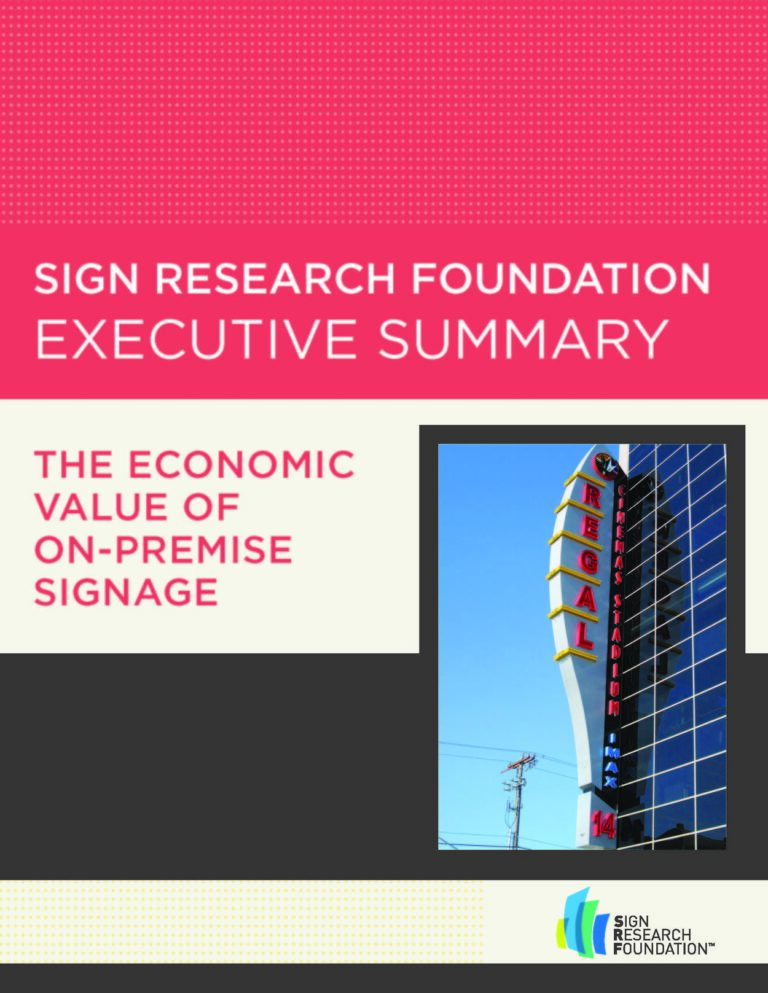 The Economic Value of On-Premise Signage
Signs act as "silent salespersons"—branding businesses, providing information about products and services, and pointing customers to exact locations. In short, an on-premise sign's economic impact on businesses—directly and indirectly—is significant. Researchers tackled the topic by exploring how changes in on-premise signage affect business performance. Part of the studies also focused on the impact on consumers and the surrounding community.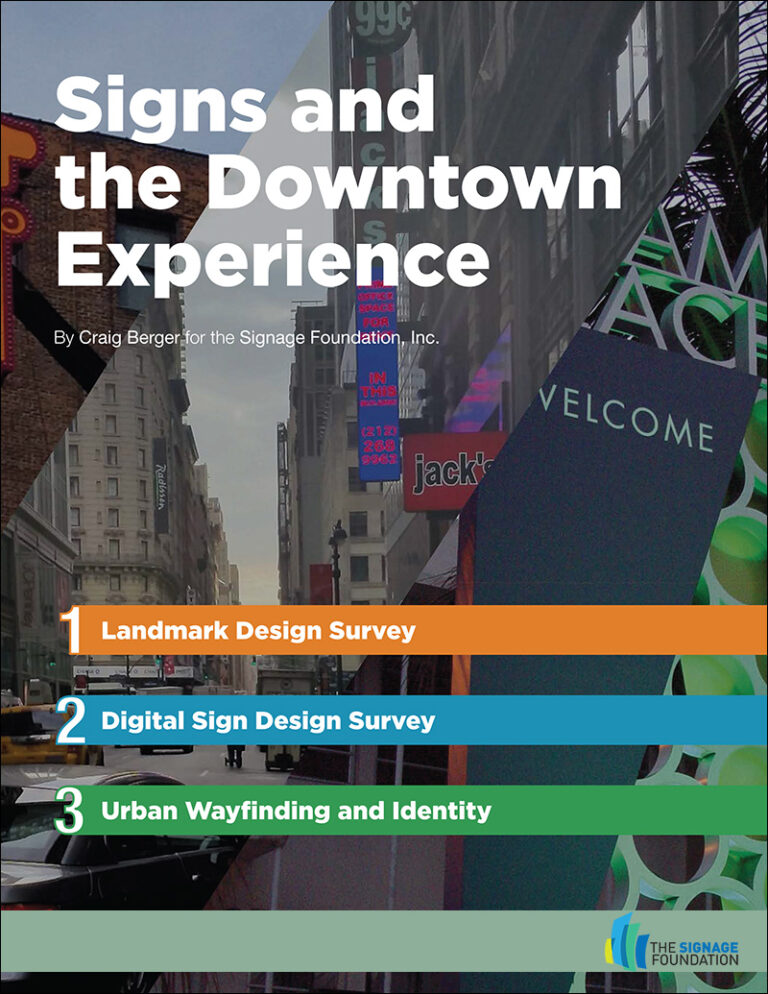 Signs and the Downtown Experience
The report compares the effectiveness of different approaches to sign design with different strategies and economic trends. The analysis creates a clearer picture of how effective signs can enhance commercial institutions and play an important role in enhancing the community and environment.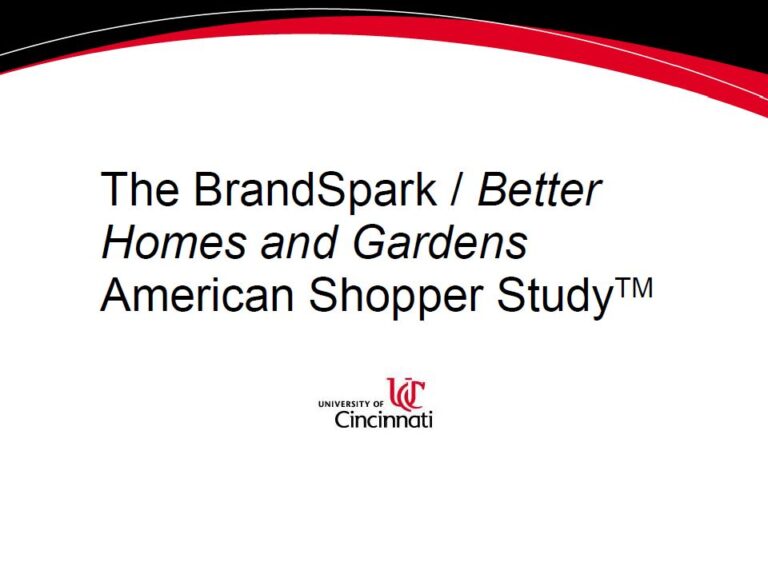 100,000 Shoppers Can't Be Wrong: Signage Communication Evidence from the BrandSpark / Better Homes and Gardens American Shopper Study
Consumers learn—and assume—all sorts of things about a business based on its sign. This study by Dr. James Kellaris from the Lindner College of Business at the University of Cincinnati offers a wealth of insight into consumer behavior and provides key findings for retailers.
Extensive additional research focused on the economic value of signs can be found on the Sign Research Foundation's site:
The Economic Impact of Exterior Electronic Message Boards
Evaluating Stakeholder Perceptions of Form Based and On-Premise Traditional Signage Codes for Commercial Signage along Streetscapes
Finding Common Ground: EMC and Digital Sign Issues
Illuminated vs. Non-Illuminated Signage – Economic Impact of Illumination
Protecting Appearance and Atmospherics: Trade Dress as a Component of Retail Strategy
Public Art and Urban Design: Evolution of Signs and Placemaking
Recalculating: How We Can Fundamentally Rethink Communication in Urban Centers and Metropolitan Areas in Light of the Current and Rapid Changes in Social Systems Economics and Technology
Route 66: String of Pearls
Showcasing … The One Thing a Business Cannot Live Without
Showcasing Business Transformations through On-Premise Signage: A Business Makeover Case Study of Harris Tynes Realty
Signage as Marketing Communication: Research Perspectives and Next Steps
The Importance of Signage in Repositioning Your Brand
University of San Diego Economic Value of Signs
Viewing Signs through the Eyes of the Beholders: Perceptual Evidence from the BrandSpark/Better Homes and Gardens Shopper Survey